Content
1. Create an Account
2. Navigate
3. Select articles
3.1 1 select a specific article
3.2 Multiple selection of items in 1 go
4. Place your order
4,1 add to basket
4.1.1 Amend 6
4.1.2 Calculate delivery charges 7
4.1.3 payment
payment/ delivery options 4.2 8
4.2.1 Step 1 of 3
4.2.2 Step 2 of 3
4.2.3 Step 3 of 3
1. Create an Account
If you want to order an article from our site, firstly create an account (unless you have a paypal account and use paypal-express basket, then go to chapter 4.1.3).
In that case we have your information in order to send your selected article. In order to create an account, you should first go to "Login" button in the upper left corner of the site. (See below screen ). In case you have an account please log in via this link.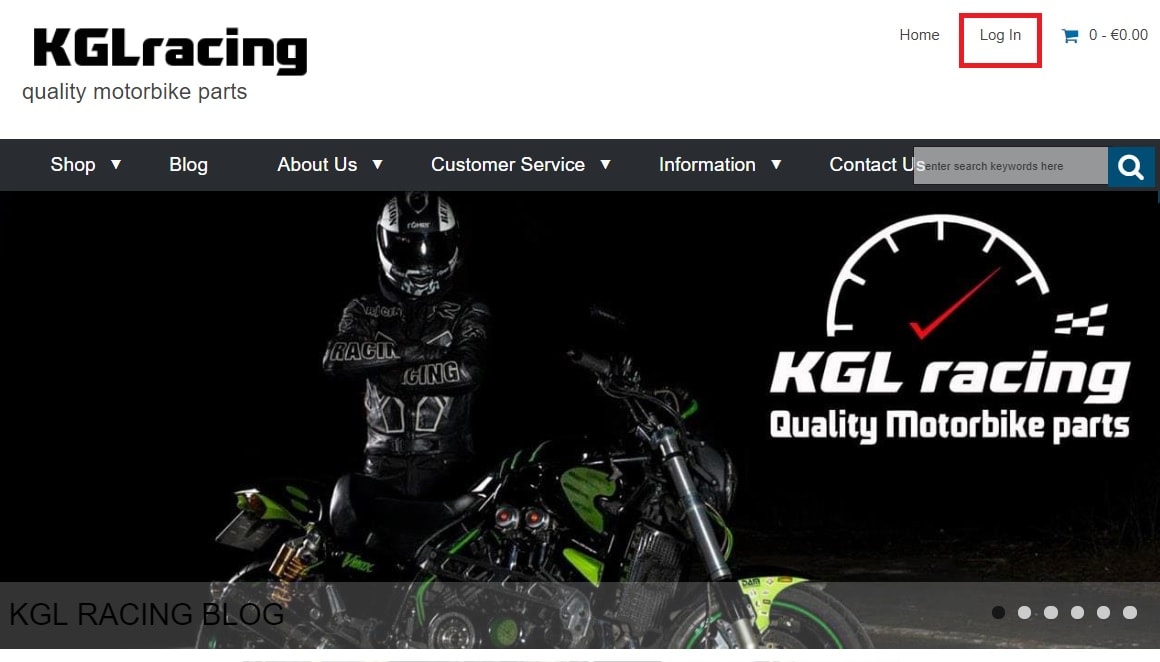 You are now on below page. In case you have an account please log in immediately log (1). If you're new on below website please fill in all necessary information (2). When all this has been filled in, please confirm by selecting the "send" button at the right bottom of this page (3).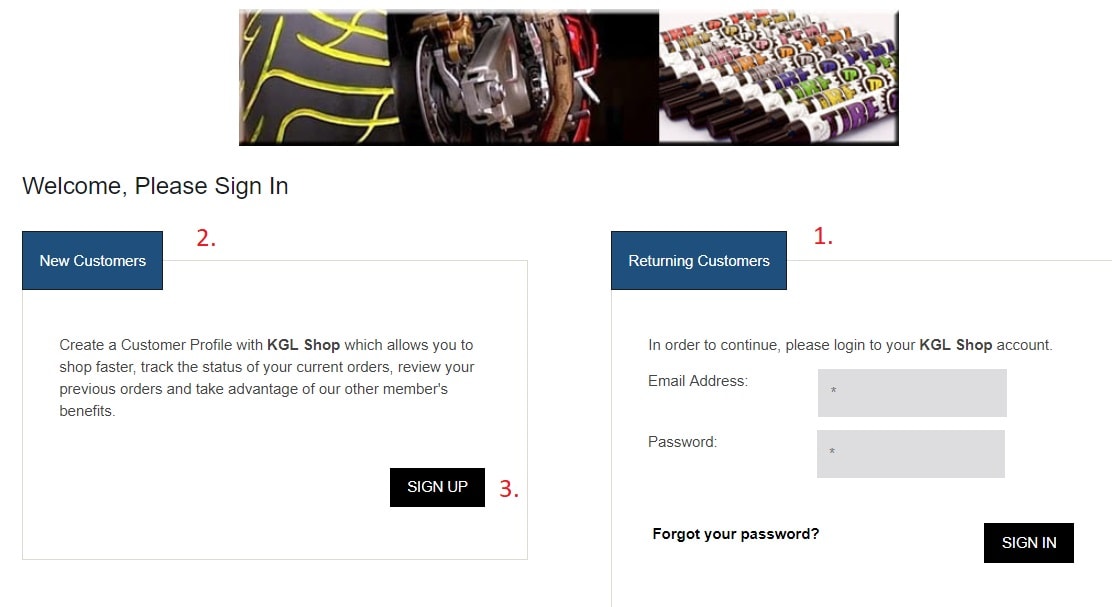 After registration left of this page some new functions will appear on the left side of this page. : such as "basket" and "validate" more details in step 4. You can always amend your settings via the account button.
2. Navigate
On our KGL Racing site it is possible to navigate in 3 different ways:
Via de navigation tool above banner or at left side of this page
Specific search for a product (in the right margin).
Search by brand (in the right margin).
See below screen for using these navigation tools.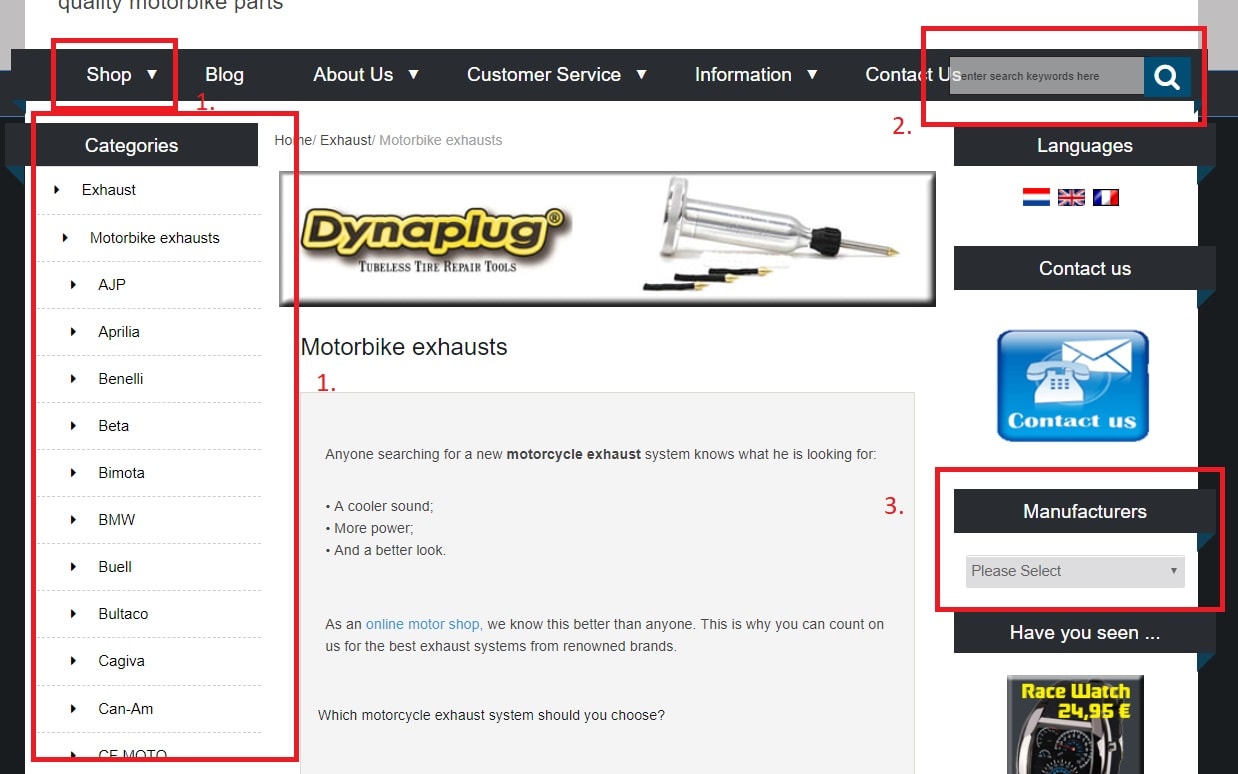 Example: You are looking for an exhaust for your Honda CBR 1000 from the year 2004. Please proceed as follows
You select "exhaust" at the left part, a menu will open
Select "moto"
Select your brand, this can be done via 2 ways : with left navigation menu or by selecting the icon found on the main page.
You select "Honda".
Select type of engine, "CBR 1000"
Select year "2004-2007"
All possible existing exhausts for your selected motorbike will appear- - alphabetically ranked –. You can set your filter for an additional search (see below screen).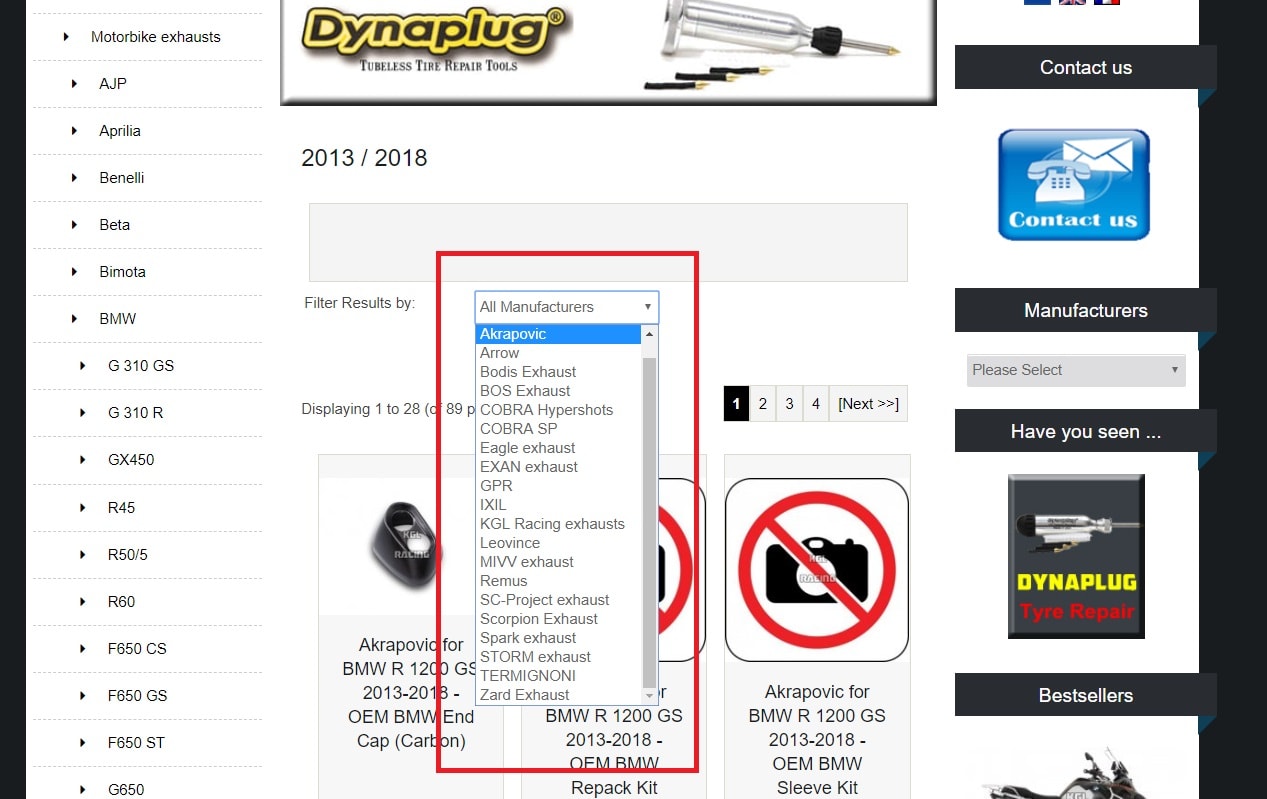 3. Select articles
3.1 1 specific article:
simply click on the photo or name of the article, you will be guided to the description page of your selected product.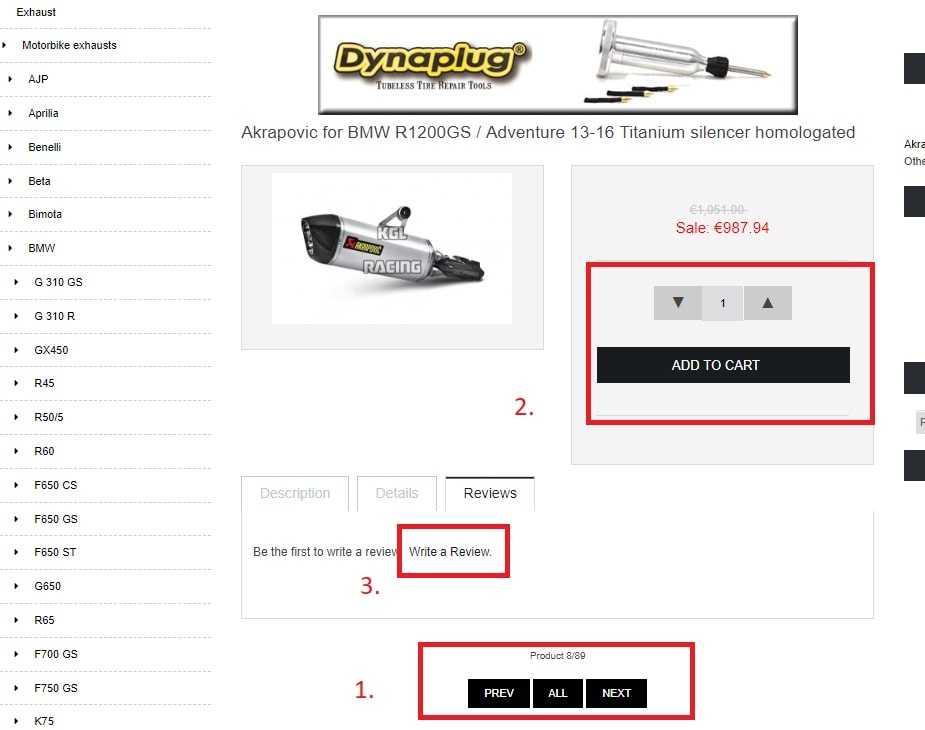 On this screen you'll find all info of your selected item:
A detailed description of the article
Prices and any discounts
Image of the article (can be enlarged by clicking on it)
The year of the engine for which your aimed product (left)
Reference
Supplier
Next to this some interesting features can be consulted (see above screen where you can find):
Navigation buttons to scroll between all possible items that match your previous search. The button in the middle takes you back to the previous survey.
Here you can fill in the number of wanted items and add them to your "virtual basket". On the basket page you'll see what's already in your basket,
At same time you can share this with friends, by adding a small text,
After receipt of your order we appreciate to read your feedback for us or other customers.
Reminder: You can continue searching articles on this site after order placement.
3.2 Multiple selection of items in 1 go:
Next to each item you'll see the "Add" button (see No. 1 in the screen below).
Fill in the number of item(s) you want to buy.
Click the button: "selected to basket " (see No. 2 below screen). On this screen you can place your order - see step 4: "Place your order".
Note: If you want a detailed description of a specific article just click on it. At any time you can return back to main screen.
Reminder: You can continue searching articles on this site after order placement.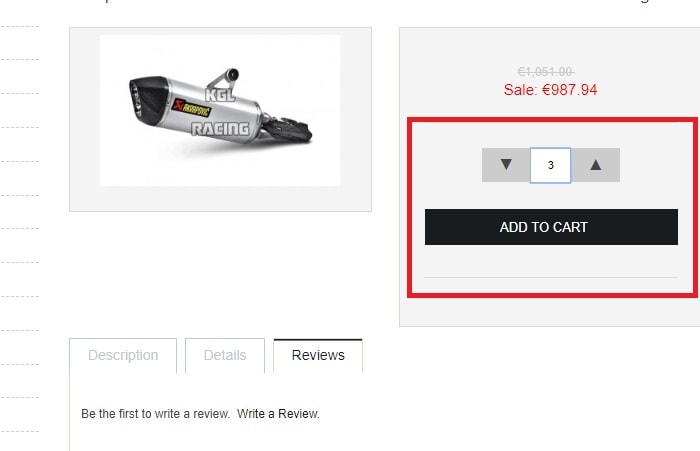 4. Place your order
After order placement you can navigate to your basket and check out what's in the basket. Or you can go straight to your validation/payment screen.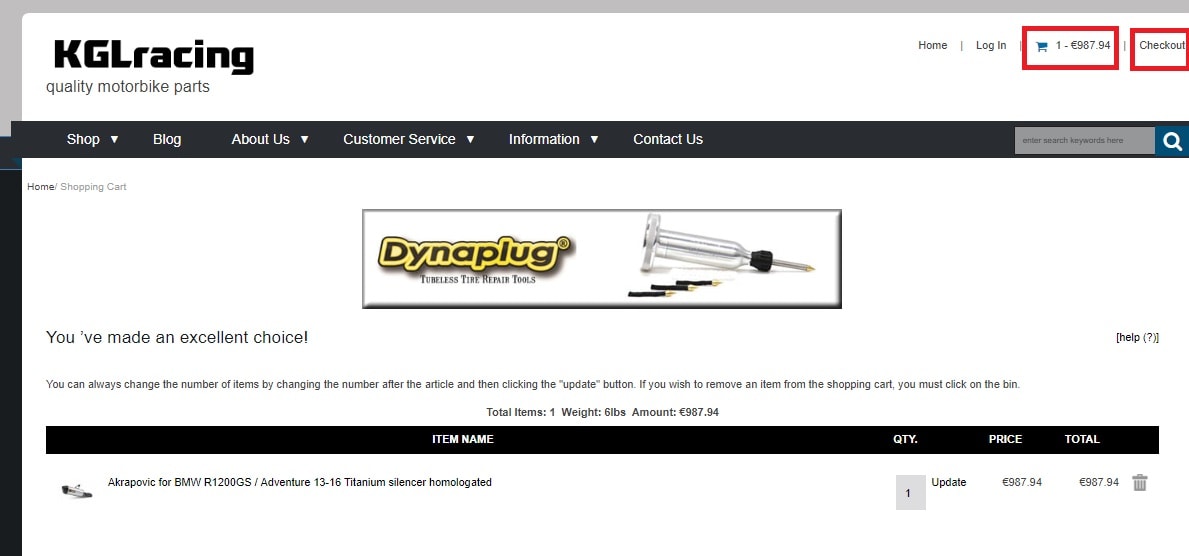 4.1 Basket
When clicking on this tool below screen will open : a total overview with all selected items will appear.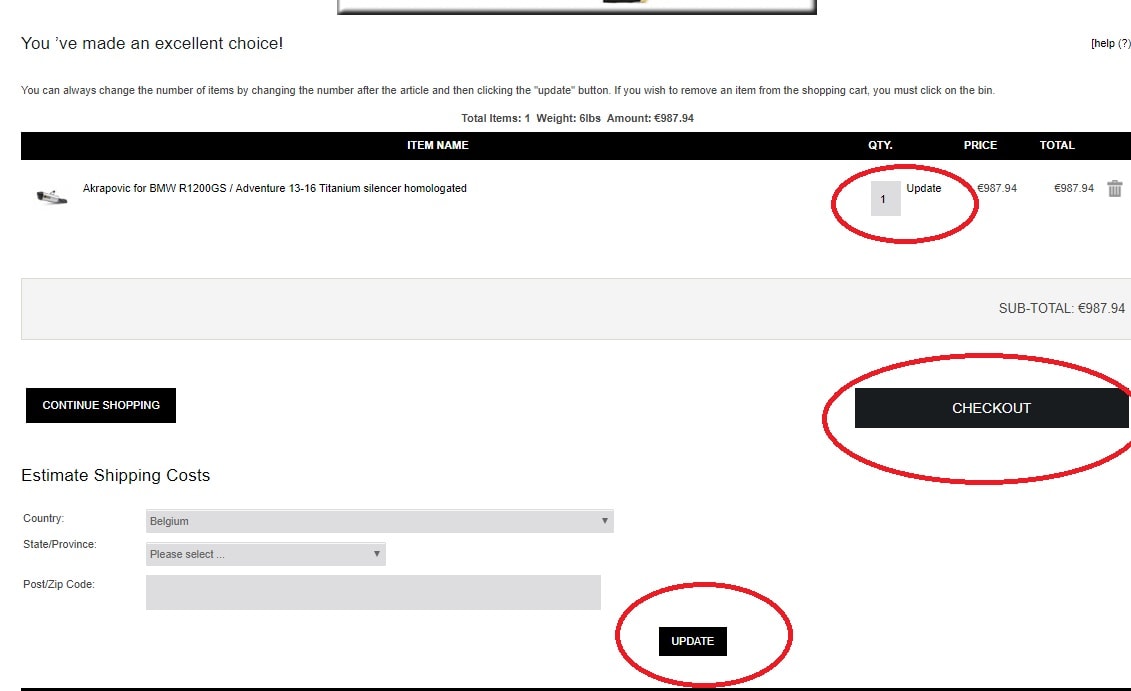 4.1.1 Amend
At any time or stage you can amend your order by selecting " refresh", amendments such as quantities, multiple changes in 1 go are possible, same for removing an article by clicking on the bin (2) and refresh.
4.1.2 Calculate delivery charges
The shipping cost depends on the total weight of your order. By ticking the "estimation delivery charges" button you will see how much it will cost per available formula. If you choose to pick up your order by yourself, delivery charges will be skipped automatically.
4.1.3 payment
After order placement, go to payment screen "checkout" button (4).
In case you have already an account select paypal express (5). Or go to 4.2,1 if you don't have an account yet:
4.2 payment / delivery options
4.2.1 Step 1 of 3
First, you will get following screen: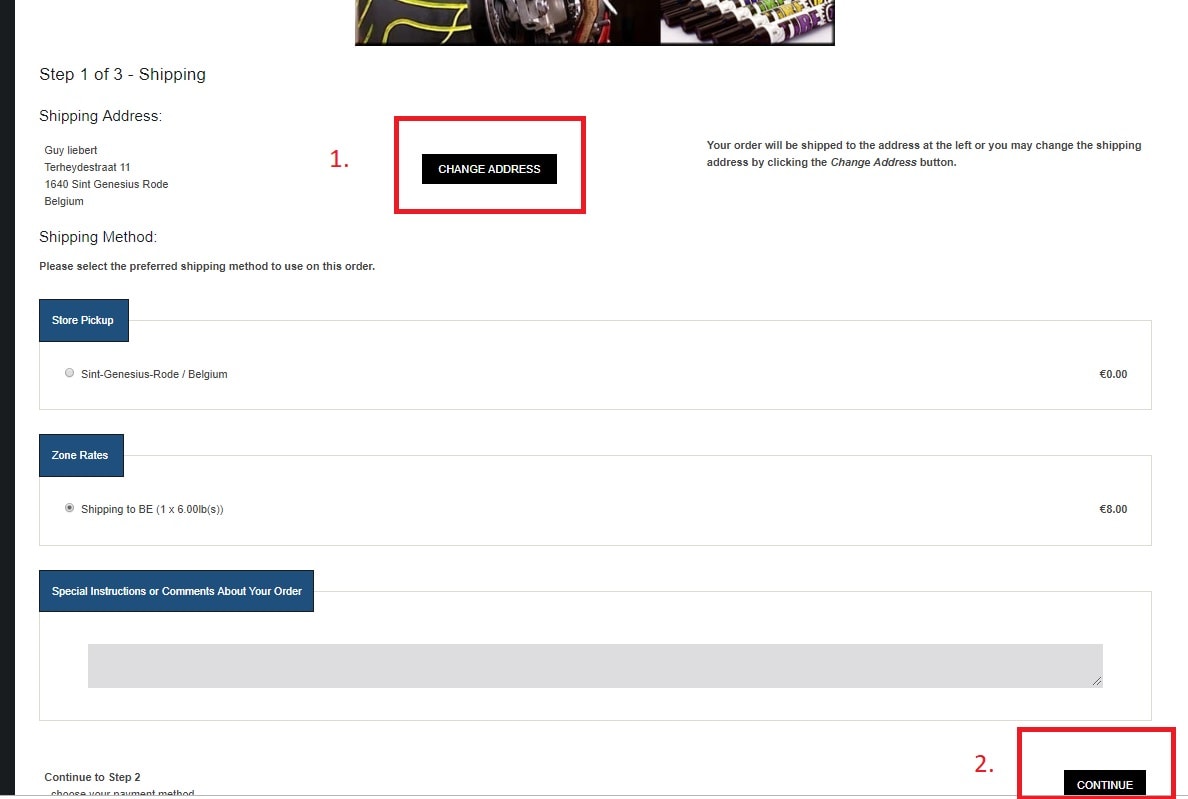 We have prefilled your addresses below. The buttons below will allow you to add or change your address: "Edit your address" button.
Either choose Bpost delivery, insured Bpost delivery (covered up to 2500 euros) or picking up your order by yourself. You will be notified when order is ready. You can still add a comment on your order.
All filled in, please go to step 2 by clicking on "Continue with validation/payment" (2)
4.2.2 Step 2 of 3
In step 2 you will be able to cash coupons or vouchers. Continue by selecting your payment method: either : Pay upon pickup (only for articles that are available), bank transfer or Paypal. Ready, click next "Continue with validation/payment".
4.2.3 Step 3 of 3
In step 3, you will get the summary of the order and all data entered, after checking this, please tick " confirm order
Note: A confirmation email will be sent to your email address. If not, please contact us.
NOTE: Firstly check your spam box in case confirmation doesn't appear in your inbox.