Akrapovic exhaust systems no longer need introduction. They are the best on the market. That's it. Anyone interested in

motorbike exhausts

knows that an Akrapovic exhaust is what your bike truly needs.
The brand Akrapovic always remains up-to-date. Because standing still is going backwards. The brand aims at continuous improvement and optimization in terms of sound, look, power, finishing touch and so on. That is why the

motorbike

,

offroad

,

cross

,

maxi-scooter

lines have been thoroughly revised.
The very essence of the product is in the Akrapovič design.
Every component of an Akrapovič exhaust is carefully designed and constructed by a highly skilled multidisciplinary team of designers, engineers and architects; they successfully take on daily challenges – combine a technical solution with an attractive, modern and state-of-the-art design.
Our signature hexagonally shaped muffler took the world by storm when it was introduced to the motorcycle market. A new conically shaped muffler represents the next level of evolution; it provides sharper racing sound and faster acceleration. More is yet to come. Stay tuned.
THE HARMONY OF MATERIALS
Scrupulous attention to chemical compositions and gas content of titanium, stainless steel and aluminium alloys is constant; gas content is crucial for the quality of cast titanium parts. Hardness and micro-hardness measurements, tensile properties, plastic properties and formability determinations are carried out for all incoming and new materials by a team of highly-skilled engineers. Such regular procedures ensure the best quality of the final product and the use of the best materials.
SOUND ENGINEERING
A team of engineers spends countless days looking for the perfect sound, one of the four major elements of exhaust system design. On one hand, the exhaust system must fulfil the homologation noise levels, on the other hand, a good exhaust system is expected to deliver better and appreciated sound that you want to be recognised by.
At Akrapovič, special measurement techniques and equipment are used to capture and analyse cabin and tailpipe exhaust sound, which is presented in a sound colour map - a signature of the exhaust system. Based on results, proper acoustic elements are calculated.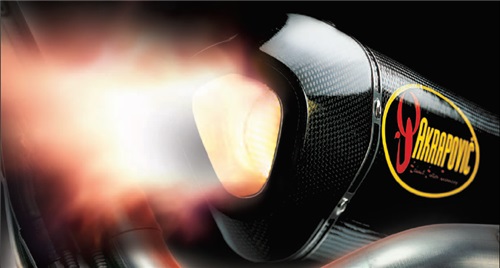 Some good reasons to choose an Akrapovic exhaust system
Going for Akrapovic is going for quality:• Akrapovic exhaust systems complies the strictest noise standards and are e-certified, with the exception of the race models.
• The titanium or carbon cover eyes trendy
• Maintenance-friendly
• Choice between slip-on dampers or the complete exhaust
• Even better performances
• Clear installation manual
• Last but not least: short delivery terms

You will find more info on the Akrapovic website.

If you are looking for a specific motorbike parts or accessories, we would like to redirect you to their respective web page.
And if you want to browse more available models in our web shop, click on motorbike exhausts or scooter exhausts.

Feel free to ask for our promotions and special deals. And contact us for more details.