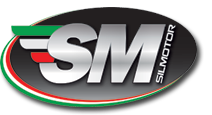 SIL Motor, also known as SM is more as 20 years in the development of sports exhaust systems for road bikes, off-road and quad.
The passion for the world of racing has led that the company in now one of the main players in the Italian market.
Continuous evolution and development, both in terms of performance and aesthetics of its products is "the" feature of SIL motors.
A very wide range of versions for the most popular brands available, and this in carbon, aluminum and titanium.
More info on the Sil Motor website